A Powerful & Secure Shopping Cart for Your Website
The fast, easy way to turn your website into an online store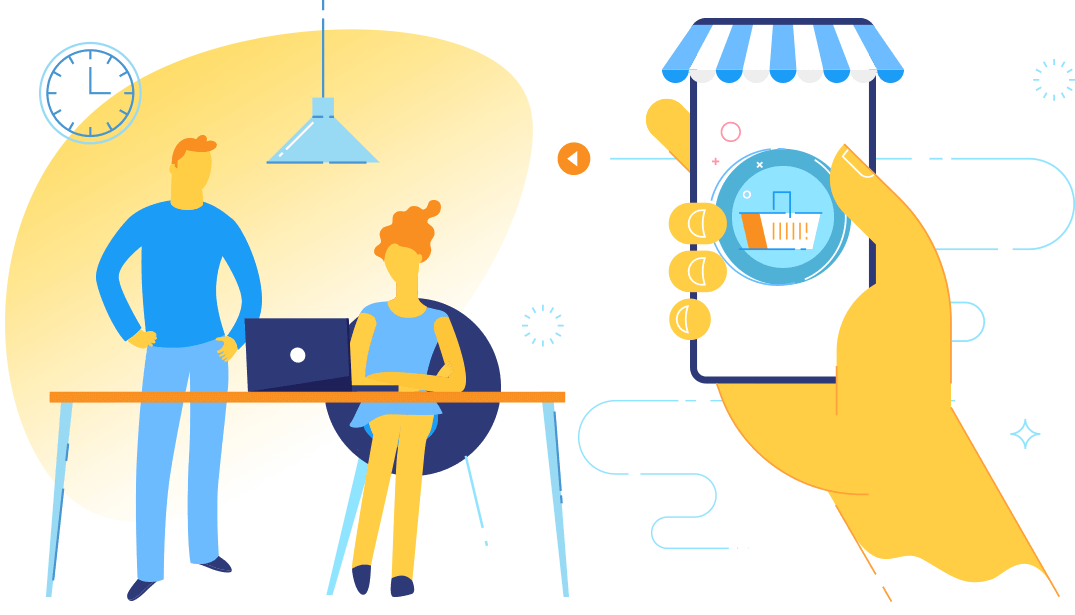 Over the last couple of decades, eCommerce has grown by leaps and bounds. Today, millions of people shop online, and many of them prefer it over visiting brick-and-mortar locations to purchase the products they want. Business owners everywhere are looking for the fastest way to get involved and start selling their own products online. You may be one of them!
Even if you already have a website, there's no reason you have to start over to build an online store. You can create a store using an eCommerce platform and connect it to your existing website. Let's get into the details of shopping cart software and how to choose the best.
---
What is a Shopping Cart Software?
A shopping cart software is a type of software that allows customers to shop on a website, creating a list of products they want to buy by adding them to the virtual cart. The customer can view the online shopping cart to see what products have been added to it, and can choose to add more products or remove them.
When the customer is finished shopping, the shopping cart software provides a secure means of paying for the products in a virtual checkout. The owner of the eCommerce website is then informed of the purchase so they can start fulfilling the order through packing and shipping the items.
Online shopping carts can be built with different coding languages including ASP, Java, JavaScript, and HTML. Each has its advantages and disadvantages, but an HTML shopping cart is more versatile and compatible with all browsers and devices.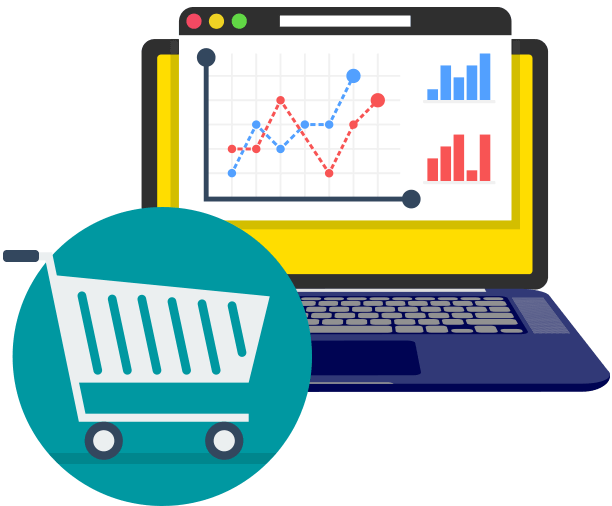 Types of Shopping Cart Software
There are three general types of shopping cart software. They're differentiated by the ways they're added to a website, how they're distributed, and by who takes charge of updating the software.1
Open-source shopping cart software
Open-source software is released with an open license that allows any developer to access and edit the source code. An open source shopping cart has both benefits and drawbacks. Usually, the software is free, and with its source code available to developers everywhere, addons, bug fixes, and modified versions are often readily available.
However, since an open source shopping cart is not controlled by any one person or company, you may struggle to find help with it. A centralized customer support line may not exist, and if it does, they may only be able to offer support for an unmodified version of the software, or they may be unfamiliar with the specific customizations you use. In addition, you'll be responsible for obtaining the software and installing it onto a web server, which will need to meet the software's system requirements. You'll also need to perform updates yourself by uploading the new version of the software onto the server.2
Licensed shopping cart software
Licensed software is much more straightforward than open source. It's developed by a single company and available for your purchase and use. All development on the software is done by the company that created it, although they may provide a method for independent developers to create addons or plugins for it (through an API: application programming interface). Usually, there's a one-time fee for use of the software, although some use a monthly or annual model. Some software licenses also don't cover updates beyond a certain time limit, so you may need to pay again to get a new version. Tech support also may not be included in the license, or may expire after a set time.
Licensed shopping cart software needs to be installed and maintained the same way as open-source: by uploading it to a web server that meets the software requirements and that is PCI compliant. You will also need to upload new versions yourself.3
Hosted eCommerce platforms
A hosted eCommerce platform, also know as a SaaS (software-as-a-service) solution, combines both shopping cart software and web hosting. Instead of needing to find your own web server that meets the requirements of the software, the whole package is provided as a service. This eliminates the need to download software and install it yourself. In addition, updates and maintenance are performed by the developers. Hosted eCommerce platforms also provide a web-based interface for you to manage your store, rather than requiring you to download software, so you can run your business directly from a web browser.
Hosted shopping cart softwares are generally the most hassle-free way of getting an eCommerce shopping cart for your website. Most charge a monthly fee which varies depending on the plan you sign up for, with more expensive plans providing more built-in features and other advantages. Many hosted eCommerce platforms offer a free trial, while others offer a free plan. However, remember you can't sell products from a free trial store, so it's only for learning to use the software. Platforms that offer a free plan are also usually extremely limited, preventing you from adding more than a few products or otherwise inadequate for growing your business. Shift4Shop is the only eCommerce platform with a full-featured free plan for an online store of any size.
Components of Shopping Cart Software
There are two main components of shopping cart software, both of which are made up of smaller parts that work together for the final result.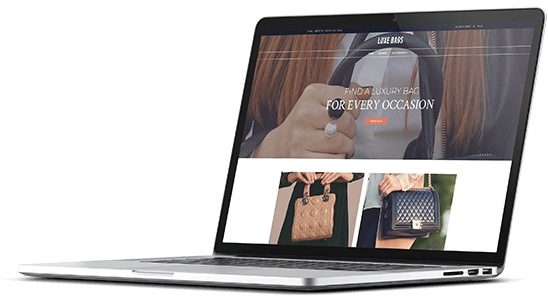 The Storefront
The storefront is the eCommerce website accessible to customers. It includes product pages, category navigation, and checkout pages in which the customer can enter their payment information to complete the purchase. It may also contain additional pages such as the "About Us" page with company information, a Contact page with related information and a contact form, Store Policy pages including shipping, return, and privacy policies, and more.
The storefront's appearance can usually be altered by design themes or templates, which are often available from a variety of sources. Most eCommerce software has a theme store where merchants can choose from a selection of free and premium (paid) templates, and third-party designers often create their own templates for sale as well.
The Administration Panel
The administration area, also know as the backend of your website, is the part of the shopping cart software used for store management and order processing. Other names for this part of the software include the dashboard, the backend, and the control panel. Administration can be either web-based, in which the store owner logs into a website for access, or desktop-based, in which the merchant must use software downloaded onto a computer to make changes which are then sent to the online storefront.
What you find in the store administration strongly depends on the eCommerce software you use. At the very least, you'll have product and category management in which you add products, edit their information and images, and assign them to categories. All shopping cart software also includes a list of recent orders and their status (such as "new," "shipped," and "complete"). The best shopping cart software also provides you with analytics and other information, tools for customizing your store and marketing to customers, and more.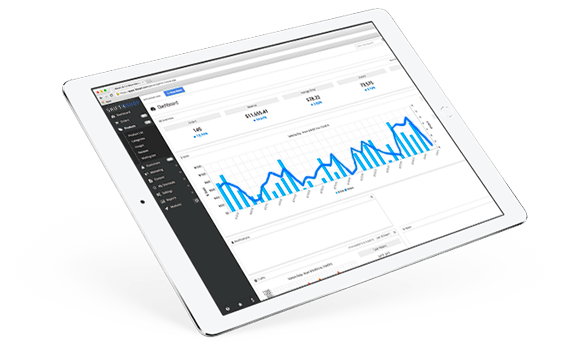 Why Shift4Shop is the Best Shopping Cart Software
With eCommerce becoming a multibillion-dollar industry, there's no shortage of shopping cart software these days — but Shift4Shop stands out from the competition. Shift4Shop has been developed with over 20 years of experience and industry knowledge that has successfully identified and included all the most-needed features of a powerful website shopping cart. Today, Shift4Shop is the most feature-rich, scalable, and overall most powerful shopping cart solution for any size business.
No Transaction Fees
Where other carts skim off the top of your profits by charging a percentage fee for every transaction, Shift4Shop does not leverage fees on top of those normally charged by your payment processor.
Robust Web Hosting with Unlimited Data Storage
Shift4Shop hosts its merchants' online stores on fast, powerful servers and sets no limits on space. You can create all the pages you need and upload as many images as your products require.
Unlimited Bandwidth
Traffic limits and overage charges are a thing of the past. Shift4Shop provides unlimited bandwidth so your online store can handle any number of visitors at any time.
The Best Built-In SEO in the Industry
Search engine optimization is crucial for your website's success. Cutting-edge SEO features have been built into every part of the Shift4Shop software so you can optimize every page within minutes.
No Product or Category Limits
Whether you run a small shop or a huge outlet, sell as many products as you desire with no limits. Plus, unlimited categories and subcategories let you organize your online store exactly as you need.
Full Suite of Effective Marketing Tools
Send newsletters, abandoned cart emails, and more right from your Shift4Shop Online Store Manager, and create all the promotions and coupons you need. Plus, Daily Deals, wish lists, gift registries, and more.
Sell on Marketplaces and Social Media
Connect your Shift4Shop store to Facebook, Amazon, eBay, eBay Motors, Houzz, and more to reach millions of potential customers right where they prefer to shop — and manage it all from your Shift4Shop dashboard.
Built-In Advanced Reporting
All the information you need is at your fingertips, including robust statistics and reporting on sales, customers, and more. Plus, full Google Analytics support further rounds out your data.
Accept Payments Instantly
Shift4Shop is the easiest platform to start accepting payments right away. Right out of the box, your online store is connected with Shift4 for robust and complete credit card processing at competitive rates.
Real-Time Shipping and Tax Calculation
Automatically calculate shipping right in your customer's cart so they're never surprised at checkout. Shift4Shop also calculates tax for anywhere in the world with a quick, customizable setup.
Tons of Integrations
Want to use your favorite marketing, CRM, shipping, tax, or other software instead of our built-in tools? No problem! Shift4Shop integrates with hundreds of services like MailChimp, Avalara, ShipStation, and more.
PCI DSS Certified Security
Shift4Shop is fully PCI DSS compliant, meaning our security standards exceed the high requirements mandated for eCommerce. Your online store is fully protected from hacks and data theft from day one.
24/7/365 Expert In-House Tech Support
No matter what time or day of the year, Shift4Shop support is always available through live chat, email, or phone. Plus, our support is never outsourced — you will be helped by experts in our home office.
And Much, Much More (Free!)
Explore all the features Shift4Shop has to offer — for free. Build your online store and grow your business with hundreds of advanced tools that would cost you over $299 per month (or more) on other platforms.
Choose the Best Shopping Cart Software for Your Business
To choose the right shopping cart for your business, compare your needs to the features offered by the shopping cart software. Also investigate how easy the software is to use, because features are no good if you can't use them!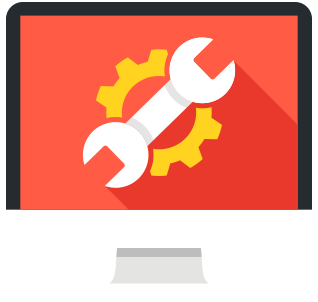 Multiple levels of security including PCI compliance, SSL, fraud prevention, and data backups
Easy setup and usage including modern store themes, straightforward customization, and scalability
Built-in marketing tools like email newsletters, promotions, loyalty programs, upsell features, and shopping feeds
Shipping tools like real-time shipping, multiple carrier integrations, and integrations with dropshipping and fulfillment services
Accounting and payment tools like payment gateways, tax calculation, and accounting software integrations
Customer management tools like a CRM, order management, RMA system, product reviews, and Q&A
Technical support including live help at no extra charge, as well as self-help like a knowledgebase
To help you find the best shopping cart for your business, we've created a free guide that will teach you exactly what features to look for and why they matter. Plus, a handy checklist you can use while you evaluate different solutions.

Add a Shopping Cart to Your Website
Build a complete website with Shift4Shop, or easily use it with your current website or platform
Website Shopping Cart
You can use Shift4Shop with any website by creating a subdomain and connecting it to your Shift4Shop storefront. Choose a theme that matches your branding, or customize one yourself or with the help of a Shift4Shop expert. Add a navigation link on your main website that leads to your Shift4Shop store, and add a link to your store menu to take visitors back to your main page. It's that simple!
WordPress Shopping Cart
WordPress site owners often use a plugin like WooCommerce for their online stores, but before long its limitations become clear. You can add Shift4Shop to a WordPress site with the same method as listed above. Since WordPress themes have a built-in menu, often in a sidebar or header, add a link to your store in WordPress by creating a new menu item with a custom URL.
PayPal Shopping Cart
Shift4Shop can connect with your PayPal account to allow you to receive PayPal payments from customers purchasing your products. The Shift4Shop Buy Now Button is an embeddable widget that can fully replace PayPal Buy Buttons and be placed on any site where you can add HTML and JavaScript. Simply enable PayPal as a payment method, create Buy Now widgets from your Shift4Shop dashboard, and place them as needed. When customers click the buttons, they'll be able to pay with PayPal and their orders will appear in your Shift4Shop store management for processing.
Google Shopping Cart
Shift4Shop connects with your Google Merchant Center with an automated feed that enables you to create complete product listings in Google Shopping. These include product images, star ratings, pricing, brand, and more. You can also create AdWords PPC ads using the same product data, which will appear alongside search results. Shift4Shop also makes full use of Google Customer Reviews which displays an aggregated star rating on your storefront based on customer feedback. Shoppers can also pay with the information they have saved in their Google Account through our integration with Google Pay, preventing them from needing to enter their information on your website.
Amazon Shopping Cart
Shift4Shop's Amazon integration makes it possible for you to sell on the Amazon Marketplace while managing orders and inventory in your Shift4Shop dashboard, even if you don't sell the same products directly from your own site. Seamless integration with Fulfillment by Amazon means you can ship your products to an Amazon Fulfillment Center for picking, packing, and shipping, which also qualifies your products for Amazon Prime and gives you a better shot at winning the Amazon Buy Box. You can also accept payment via Amazon Pay, which allows customers to use the saved information from their Amazon accounts to complete their purchases.
Frequent Asked Questions
How does a shopping cart software work?
Shopping cart software allows visitors to make a purchase from your website. You can use it as an addition to an existing website, or as an all-in-one solution with an online store and website included.
Why do I need to use shopping cart software?
If you currently have a website without eCommerce capabilities and need to take orders online, sell products, or process payments, then you need a shopping cart solution like Shift4Shop to help you achieve these goals.
Do I need to switch my website to Shift4Shop?
You can keep your current website and add an online store to it with Shift4Shop. If you don't currently have a website, then it's better to start building it directly on Shift4Shop together with your online store.
How do I start accepting payments online?
Shift4Shop is automatically integrated with Shift4 payments right out of the box, so you can start accepting credit cards immediately. Alternate payment methods like PayPal are also available.
Is there a free shopping cart option?
Shift4Shop is the only shopping cart software that offers a free plan with zero limits. Sell as many products as desired and get access to hundreds of features, all for free.
Will my store be PCI Compliant, safe and secure?
Your store's data is completely safe. Shift4Shop is a fully hosted, VISA PCI Certified eCommerce solution with a 99.99% uptime guarantee. More hosting information is available here: https://www.shift4shop.com/ecommerce-hosting.html, so not even a natural disaster can compromise you business.
How do I get started?
Simply sign up for our free plan and you can start building your online store and website right away.